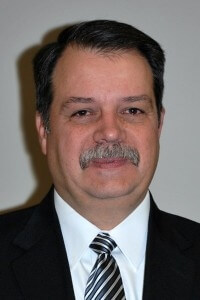 Dean Oliver, PE
Principal Mechanical Engineer
Mr. Oliver has a multi-tiered level of experience, covering a very diverse range of projects.  He was the lead engineer for three miles of 125-pound underground shallow and deep trench steam line project, with responsibility for construction management and testing.  Mr. Oliver conceptualized a breathing air NITROX system to supply breathing air for Space Shuttle astronauts to reduce their Hyperbaric Chamber time, such that their time to air travel was greatly reduced.  He was responsible for numerous designs involving high-pressure gas systems such as Liquid and Gaseous Hydrogen, Liquid and Gaseous Nitrogen, Liquid and Gaseous Oxygen, Argon, Helium and high-pressure Air and steam systems.  His design experience also includes fuel and fuel transfer systems.  Mr. Oliver also has experience in energy assessments and system upgrades.  He has extensive experience in the design, installation and maintenance of large HVAC systems, Chillers, and Central Plant systems.  His expertise developed in designing such systems as the Astronaut Donning Station Fire Protection System and Hydrogen Burn Stack brings a very diverse level of expertise to projects.
From this diversity of experience, Mr. Oliver is able to quickly analyze situations and develop a systematic approach to a given project.  This experience also allows him to implement value engineered systems without compromising system integrity or life span.  Mr. Oliver's large project experience provides him with a broad range of skills in project management, cost control, estimating and general project oversight.
Mr. Oliver serves as Engineering Manager for Oliver Little Gipson Engineering, Inc.
---
Education:
University of Tennessee, Bachelor of Science, Mechanical Engineering, 1989
Registrations held in multiple states.
Affiliations:
American Society of Heating, Refrigeration, Air-Conditioning Engineers (ASHRAE)
Additional Leaders
Tim Little, PE LEED AP Principal Mechanical Engineer
Tony Gipson, PE LEED AP Principal Electrical Engineer